Banking | Instant eChecks
Like writing checks? You can virtually write one to fund your ResortsCasino.com account. With eChecks, you can securely fund your account in a snap. Just like using a paper check, the money is requested from your bank and deposited to your ResortsCasino.com account.

When you use an eCheck, we'll make sure the money goes into your ResortsCasino.com account right away, even though we don't receive the funds from your bank quite as fast.

Before depositing with eCheck, we ask that you make sure you have sufficient funds in your checking account to cover your deposit. If an eCheck deposit is returned back to us as unpaid, additional restrictions may apply on future deposits.
To deposit with eCheck:
From My Account, click Cashier.
Click 'Deposit' next to the eCheck logo.
Enter the information from your personal check, including your Routing Number and your Account Number.
Review your information and click Submit.
Here is where you wil find the information for your Instant eCheck deposit: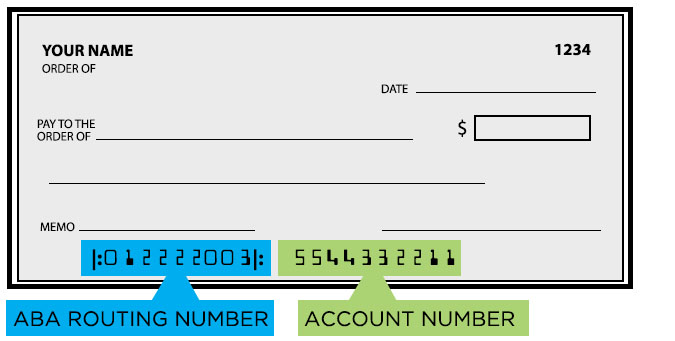 What are the deposit limits for Instant eChecks?
Deposit limits vary based on a number factors. To find out how much you can deposit with eCheck, please call 1-866-740-3276.
Are there any additional fees associated with using eChecks?
As long as your deposit goes through, you won't have to worry about additional fees. However, if your deposit is returned by your bank, you are responsible for any and all fees, including NSF and others.
Can I withdraw my winnings using eCheck?
Absolutely. As long as your eCheck deposit has cleared, you can withdraw your winnings back to your checking account using eCheck.