Casino Account Features
Overview
The My Account tab gives you a birds-eye-view of everything that's happening with your account. With just one click, you'll see your cash balance, bonus balance, and the number of Resorts Rewards Points you've racked up. This tab is also where you manage your account, change your settings, and make a deposit.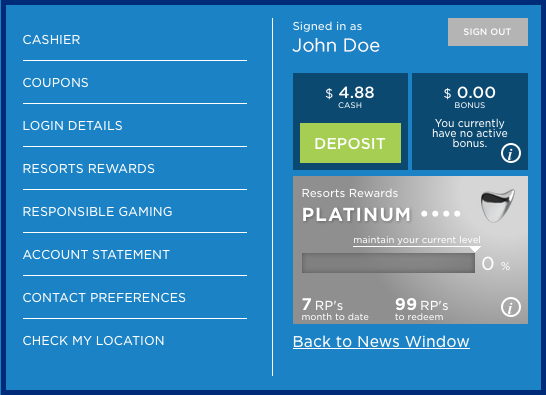 Cashier
Need to deposit or withdraw? Just click Cashier. You'll see every payment method available to you. If the payment method is available for deposits, it'll be highlighted in green. If it's also available for withdrawal, it'll be highlighted in blue.
First time depositing? You'll need to add a few pieces of information, like your bank info or credit card number.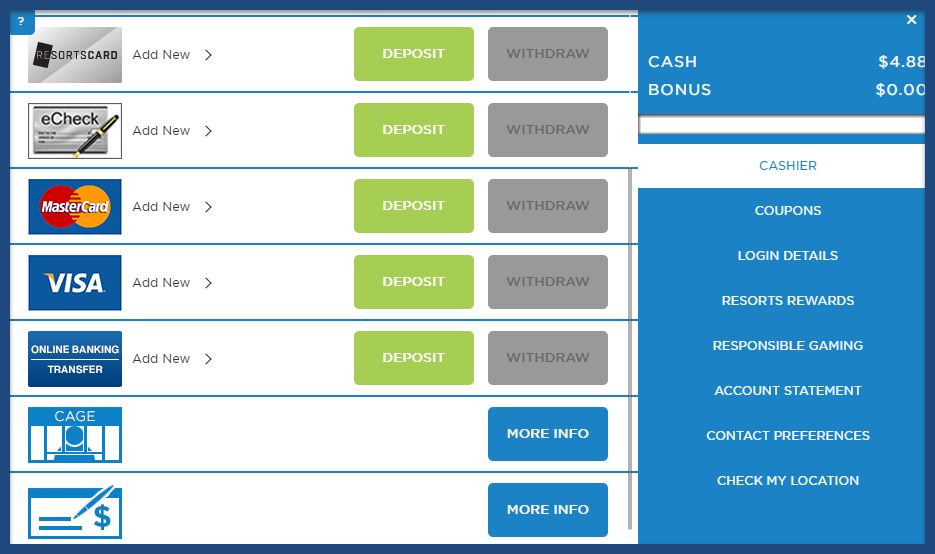 Coupon
We like to treat our players like royalty. One of the ways we do that is through online casino coupon codes. In many cases, a coupon code gives you extra cash or bonuses when you make a deposit. In some cases, you might not even need to make a deposit to take advantage of a coupon code.
If you have a coupon code handy, just click Coupon to redeem it. You'll then be asked to enter the code. Then, click the Get Details button for next steps.
Resorts Rewards
When you play with us for real money, you'll earn Rewards Points along the way. As you earn more points, your status in Resorts Rewards will climb and you'll be eligible to earn even more rewards. To view your balance or redeem your Resorts Rewards Points, just click Resorts Rewards. You can also discover more info about the program here.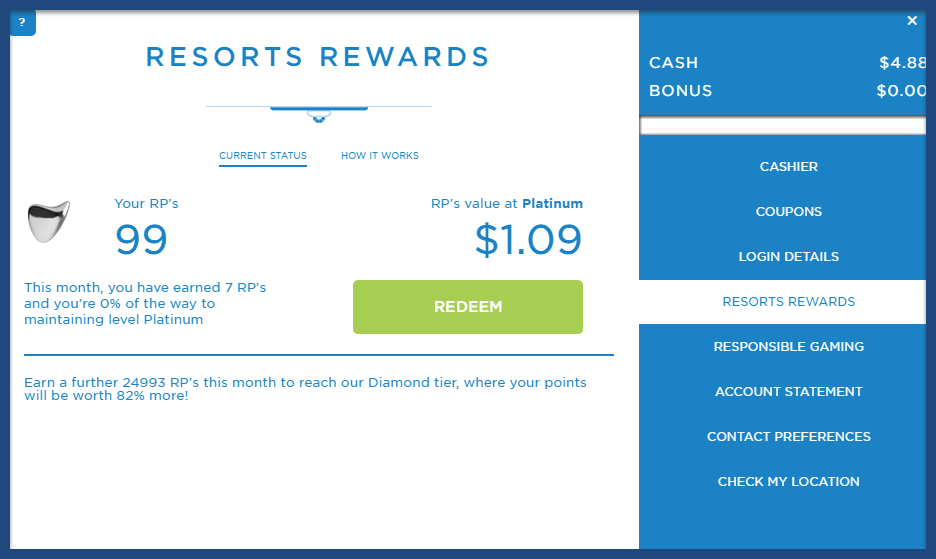 Responsible Gaming
Our top priority is for you to enjoy our games responsibly. So we invite you to set daily, weekly, and monthly deposit limits. Need a break? Set a cool-off period. Want to stay away from our real money NJ online casino for good? Take advantage of our self-exclusion feature. Everything is easy to set up in the Responsible Gaming section.
Account Statement
It's good to keep track of things. So we've made it easy to see your recent transactions, win/loss rate, and gaming limits history. Just click Account Statement to see the details for a specific timeframe.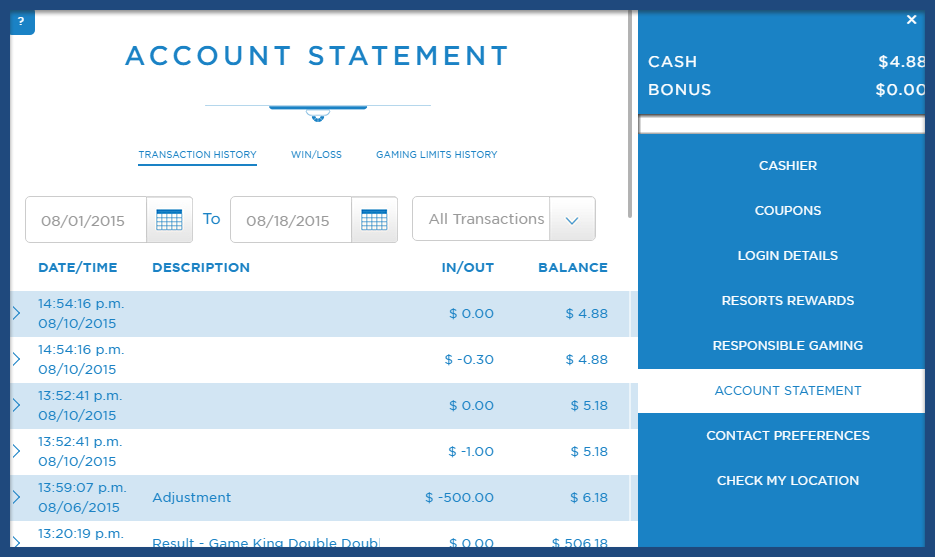 Contact Preferences
We like to keep you up to date on our online casino promotions and at Resorts Casino Hotel. Feel free to opt in or out of them by clicking Contact Preferences. You can choose to receive information by email, text, phone, or through snail mail. We can even keep you up to date with service messages and send you a message whenever you log in to your account.
Check My Location
ResortsCasino.com is reserved for players who are physically located in New Jersey. You don't have to live here to play for real money, but you need to be here. It's not our rule. It's the law. We use geolocation technology to make sure you're playing within state lines.
Don't worry about checking your location each time you log in. A simple browser plugin does all the work for you while you sit back and relax (mobile works a bit differently, but it's a no-brainer, too).
If you're having trouble being located using our geolocation technology, it might be because your IP address is located outside New Jersey. Or it could be a number of other reasons. To find out if you're being accurately being located, click Check My Location.