Resorts Online Casino Rewards
Cash is king at ResortsCasino.com, so we want you to feel like royalty. That's why we've put together the best online casino loyalty program in New Jersey.

Resorts Rewards and Echelon Rewards give you the rewards you deserve. Complimentary hotel stays. Discounts on entertainment. Your own dedicated VIP host. Room upgrades.

And cash. Lots of cash.

Because as you play your favorite online casino games, you'll earn Rewards Points. And those Rewards Points are convertible to cash, which you can use to bet again or withdraw. Your call.

There's no limit to how many points you can convert to cash. And as you progress through Resorts Rewards and Echelon Rewards, you'll need even fewer points to swap out for cash.

You'll even find special days throughout the month that let you earn double, triple, or even quadruple points on select games. It's an easy way to grab extra points, move up the loyalty ladder, and pocket even more cash.
ECHELON REWARDS
With four additional tiers, including the invite-only Black status, Echelon Rewards brings you all kinds of white-glove treatment and rewards, including a personal VIP executive, a new playing device when you level up, concierge service, suite upgrades, complimentary stays, exclusive access to live concerts & sporting events, and so much more.
Loyalty Levels
When you play for real money, you'll earn RPs. And when you hit the magic number, you'll move up a level in Resorts Rewards. Keep playing, keep earning, and keep moving up. It's that easy.
5 Simple Levels, Packed With Rewards
Want to learn more about each of the levels in the Resorts Rewards Program? Click below for all the details.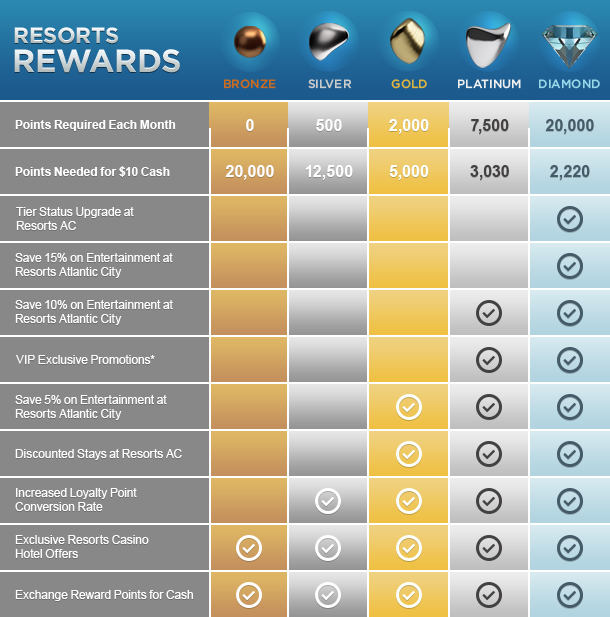 Redeeming Points
You can redeem Rewards Points for cash!
Bronze - 2,000 RPs = $1 cash
Silver - 1,250 RPs = $1 cash
Gold - 500 RPs = $1 cash
Platinum - 303 RPs = $1 cash
Diamond - 222 RPs = $1 cash
Echelon - 200 RPs = $1 cash
Echelon Plus - 100 RPs = $1 cash
Echelon Elite - 84 RPs = $1 cash
Echelon Black - 67 RPs = $1 cash
Still have questions? Check out the Rewards FAQs page for more information.