Resorts Online Casino Rewards
We kicked things off by building the best online casino experience with more games than anywhere else. And we started you off right with the biggest welcome package available anywhere in New Jersey. But that was only the beginning.

When you play with us online, you're automatically a part of Resorts Rewards, New Jersey's best online casino loyalty program that rewards you like nowhere else!
Complimentary hotel stays. Discounts on entertainment. Your own dedicated VIP host. Room upgrades. Free cash for your points. The list goes on and on.
Get to know Resorts Rewards and see why it pays to play with us online.
Loyalty Levels
When you play for real money, you'll earn RPs. And when you hit the magic number, you'll move up a level in Resorts Rewards. Keep playing, keep earning, and keep moving up. It's that easy.
5 Simple Levels, Packed With Rewards
Want to learn more about each of the levels in the Resorts Rewards Program? Click below for all the details.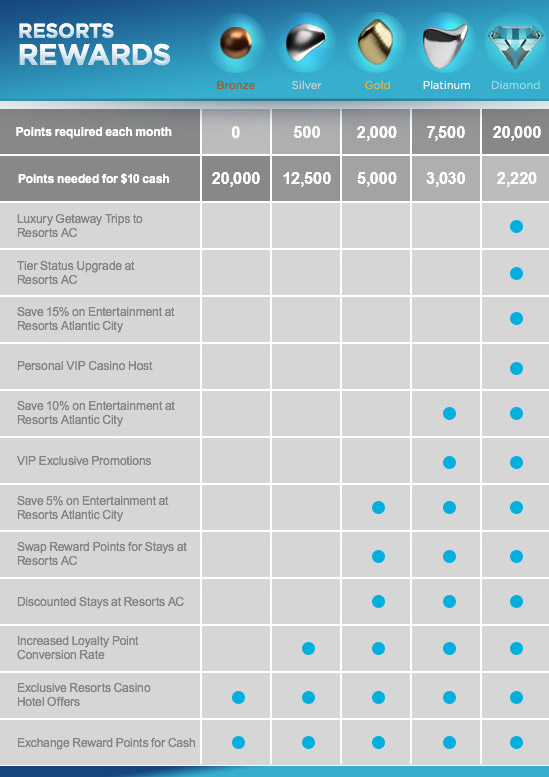 ONLINE STORE
What is the online store?
The ResortsCasino.com online store is a place where you can redeem your Reward Points (RPs) for items such as electronics, jewelry, gift cards, and more!
How does it work?
Points you earn by playing real-money games at ResortsCasino.com are exchanged for items that we send directly to you! The higher your level in Resorts Rewards, the less expensive items become. Want to make it to the next level? Start playing today!
What does the store have?
The store features hundreds of luxury items including iPads, televisions, jewelry, gift cards, and more. Looking for something that's not in the store? Let us know and we'll add it!
How do I receive items?
Items are shipped to the address you specify when checking out from the store.
How do I get to the store?
Log into your ResortsCasino.com account, then go to the Rewards tab, then select Loyalty Store or CLICK HERE.
Who do I contact if I have questions about my order?
The Rewards Center will be happy to answer any questions you may have. They can be reached at 1-844-690-3774