Resorts Online Casino Rewards
We kicked things off by building the best online casino experience with more games than anywhere else. And we started you off right with the biggest welcome package available anywhere in New Jersey. But that was only the beginning.

When you play with us online, you're automatically a part of Resorts Rewards, New Jersey's best online casino loyalty program that rewards you like nowhere else!
Complimentary hotel stays. Discounts on entertainment. Your own dedicated VIP host. Room upgrades. Free cash for your points. The list goes on and on.
Get to know Resorts Rewards and see why it pays to play with us online.
Loyalty Levels
When you play for real money, you'll earn RPs. And when you hit the magic number, you'll move up a level in Resorts Rewards. Keep playing, keep earning, and keep moving up. It's that easy.
5 Simple Levels, Packed With Rewards
Want to learn more about each of the levels in the Resorts Rewards Program? Click below for all the details.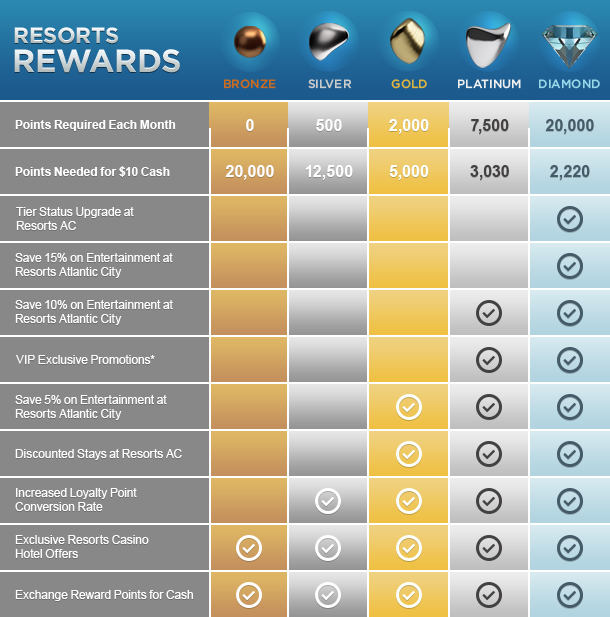 Redeeming Points
You can redeem Reward Points for cash!
Bronze - 2,000 RPs = $1 cash
Silver - 1,250 RPs = $1 cash
Gold - 500 RPs = $1 cash
Platinum - 303 RPs = $1 cash
Diamond - 222 RPs = $1 cash
Echelon - 200 RPs = $1 cash
Echelon Plus - 100 RPs = $1 cash
Echelon Elite - 84 RPs = $1 cash
Echelon Black - 67 RPs = $1 cash