Resorts Rewards FAQs
How do I join Resorts Rewards?
When you sign up and play for real money at ResortsCasino.com you automatically join the Resorts Rewards program. Sign up, make a deposit, and start playing to start earning right away!
How do I earn Rewards Points?
Playing for real money (cash only, casino bonus funds are excluded) at ResortsCasino.com means you are earning Rewards Points (RPs). Your balance is tracked automatically. The total number of RPs you earn in a calendar month determines your loyalty level in Resorts Rewards. The more points you earn, the higher your loyalty level.
How do I check my Resorts Rewards points balance?
Check your Resorts Rewards balance at any time by clicking the My Account button. From here, you can also see your current loyalty level, points earned in the current month, and available points to redeem. There is even a progress bar to show you how far you are from the next loyalty level.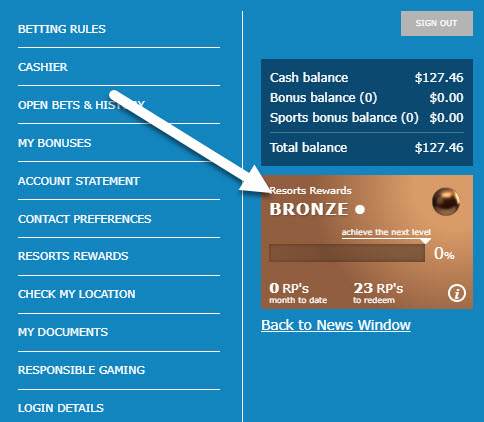 How much do I have to wager to earn a Rewards Point?
Earning RPs is simple:
Earn 1 RP for every $2 you wager on all Slots
Earn 1 RP for every $4 you wager on Roulette
Earn 1 RP for every $4 you wager on Three-Card Poker
Earn 1 RP for every $8 you wager on Video Poker and all other Table Games
Keep in mind you only earn RPs on cash wagers; casino bonus funds are excluded.
How do I move up a loyalty level?
Each Resorts Rewards loyalty level has its own milestone. By hitting that milestone in a calendar month, you'll enter that loyalty level. You'll also get to keep that loyalty level the following month. If you don't earn enough RPs the following month, your loyalty level will drop one level.
For example, if you move up to Platinum status in Month 1, you'll enter Month 2 with Platinum level. However, if you fail to earn enough RPs to maintain your Platinum status in Month 2, you'll drop to Gold level in Month 3.
| | |
| --- | --- |
| Resorts Rewards Loyalty Level | Monthly RPs Required |
| Bronze | 0 |
| Silver | 500 |
| Gold | 2,000 |
| Platinum | 7,500 |
| Diamond | 20,000 |
| Echelon | 75,000 |
| Echelon Plus | 200,000 |
| Echelon Elite | 750,000 |
| Echelon Black | Invitation Only |
What benefits come with my Resorts Rewards loyalty level?
Resorts Rewards give you access to all kinds of exclusive offers online at ResortsCasino.com and offline at Resorts Casino Hotel in Atlantic City. The higher your loyalty level, the more rewards you'll earn. Visit the Resorts Rewards overview page and Echelon Rewards page for more information on each loyalty level.
What else can I do with my RPs?
Not only do your RPs determine your loyalty level, you can also use them to earn additional entries in some of our fantastic giveaways. The best part is that you can convert your points to CASH! That's right, you can exchange your points for cash to keep playing casino games, or cash out. It's up to you!
How many points do I need to convert to cash?
You must have enough RPs to convert at least $1.00 and your loyalty level determines how may RPs are needed. There is no limit to how many points can be converted as long your account is in good standing.
| | |
| --- | --- |
| Resorts Rewards Level | RPs Needed for $1.00 Cash |
| Bronze | 2,000 |
| Silver | 1,250 |
| Gold | 500 |
| Platinum | 303 |
| Diamond | 222 |
| Echelon | 200 |
| Echelon Plus | 100 |
| Echelon Elite | 84 |
| Echelon Black | 67 |
How do I convert my RPs to cash?
To convert your points, click on the My Account button and select Resorts Rewards from the menu. Click the redeem button and enter the number of points you want to redeem.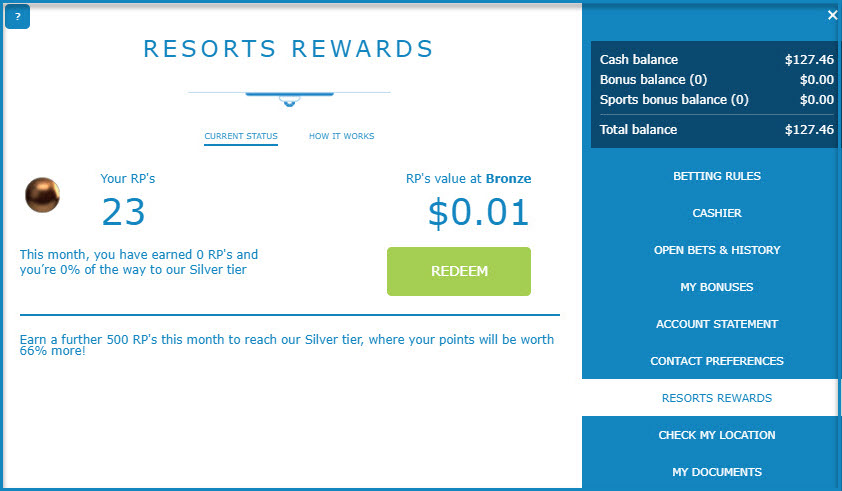 Will my Rewards Points ever expire?
RPs may expire if your account has been inactive for 3 months. We'll send you a notification letting you know that you're at risk of losing your points. To keep your account active, just log in and make a real money bet on casino at ResortsCasino.com.